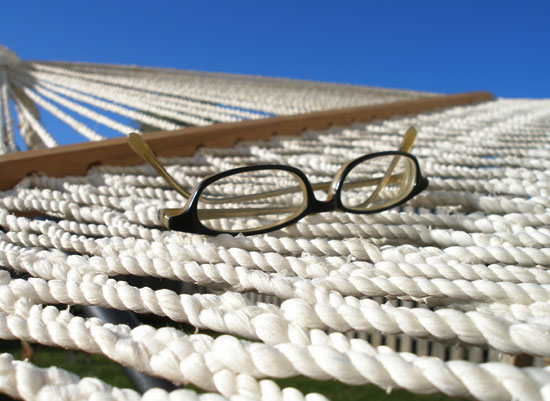 It's officially past the half way point now, and I'm now counting down the minutes until summer reading is over. I'm also at the point where I know exactly all the supplies I need for the rest of my programs, which is to say, I kind of feel like it's under control and manageable.
But it was a big week, despite our offering a smaller number of programs. Our numbers are looking great, and I've officially met the goal I set for myself in terms of teen registration.
We have 100 teens signed up for summer reading, 68 pre-readers, and 294 youth, bringing out total to 456! We are on track to beat last year's summer reading numbers.
What helped bring our teen numbers over the 3 digit mark (thereby doubling last year's numbers) was the mobile collection that started this week. Starting last Wednesday, my intern and I will be visiting the summer school during their lunch period. During our visit, we set up a small cart of books and all of our registration materials (including prizes and prize money) for the kids to check out. They can sign up and participate with us at the schools, and they're welcome to borrow books for us during the duration of summer reading without their library card. The response we've gotten from this so far has been fantastic -- in our two days (about 30 minutes each time), we signed up 12 new summer reading participants and checked out as many books, too. I'll be posting about this huge and exciting project this week, but it's one that has given me excellent face time with kids in a way I would otherwise not get in the library.
With the holiday on Monday and my inability to gauge whether we'd be slow or we'd be swamped, I kept programming low key this week.
On Tuesday, we had an all-ages movie day and showed
Gnomeo and Juliet
. Because our programming room is tight, we have to limit attendance for these programs and require attendees get a ticket. I think the entire set up is very unfriendly, but it's how it has to be. To accommodate a crowd, I decided to hold two showings of the movie -- one at 11 am and one at 1:30. We had sign ups for both sessions, but I believe people kind of forget summer school began on Tuesday, meaning our first showing had no attendees and our second had 50. I had cookies and lemonade donated from a local service organization for them to enjoy.
Wednesday was our tween program, and we had a candy sushi and a movie day. I put out a couple examples of candy sushi (easy ones -- I cut a rice krispie into thirds, then put a Swedish fish on top and wrapped it in a thin strip cut from a fruit roll up and I took a giant marshmallow and pulled a Swedish fish through the middle) and I put out the supplies. We had giant marshmallows, Swedish fish, fruit roll ups, gummy worms, and gummy life savers, and we played
Megamind
. 30 kids came out, and they ATE. We ran out of half our food, so I went and replenished empty plates with more food from our cabinets, and it was all gone. I think tweens are better eaters than teens, so I know who I'll be turning to in the future to clean our extra snacks up.
Wednesday was also our first day doing the mobile collection, as I mentioned earlier.
Thursday, we had a teen program that
everyone
told me I was insane for running: tie dying. I did it outside under our tent, pulling out 4 tables and covering them in cheap (read: throwaway) table cloths. I told the kids to bring something to tie dye, and of the 16 kids who came, only 2 didn't have something. Luckily, the library is next door to the dollar store, so they walked over and bought something. This program was a blast, and I loved seeing the teens go to town dying. Moreover, I used this as an opportunity to feel out some fall programming ideas, and I think I've got some very excited teens. Clean up for the program was easy, since we just tossed the table cloths and excess dye we had (which was little -- the box claimed we'd be able to make over 30 dyed shirts, but we made 20 and hard little to no dye left). That's my shirt to the left. Not bad for my first time doing tie dye, huh?
Friday was our story time, and it was also the second day of our mobile collection. I had a blast listening to a pair of brothers, one going into 7th grade and one going into 10th grade. The 7th grader repeated, nearly verbatim, my speech I gave in his class about the program and all the cool prizes teens could win for participating, while his 10th grade brother thought it was all a scam. They bickered back and forth, with the 7th grader signing up and his brother telling me no way, no how, it was a scam. Then he came back 10 minutes later and signed up. Excitedly, even.
I've been thinking about areas of improvement for next year and areas of expansion, and one of the things that came up with this week was getting the school classes involved. I had a teacher ask for registration materials so she could do the program with her class, and I thought this was an opportunity worth pursuing next year. The teacher planned on using a lot of what I'd created in passive programming as classroom learning opportunities. Maybe next year, I'll reach out sooner to the schools and see if the summer school classes can incorporate our program in their curricula -- imagine the greater participation, too!
That said, I am a very, very, VERY tired librarian. I'm counting down to August 6th, our last day, and I'm counting down to a much earned vacation out of the country just a couple weeks after that.