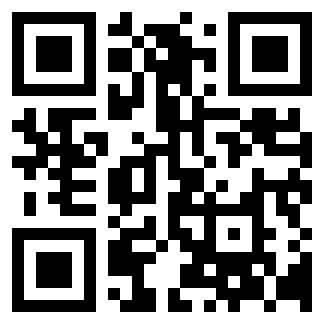 Two weeks ago we kicked off Teen Tech Week at my library with a very innovative program for teens: a QR treasure hunt. For those who don't know what a QR code is, it's a small barcode like the one above that can be read via a free app on one's smart phone or, as in our case, an iPod touch with a camera on it (the newest ones).
I was extremely fortunate in setting up this program, since I collaborated with
Drea
, who works at a library a couple hours south of where I am. I'd been planning on doing a program like this since the fall, and when Drea said she was interested in something similar, we decided to plan it together since it's a bit of a huge undertaking.
Before I dive into the nuts and bolts, I want to say that doing something like this does
not
require quite what we did. Drea and I both are fortunate to have had some help from a few authors to make some of the clues happen, but this is by no means necessary. And for those who might be interested and do want videos like ours, the ones we got were name free and with permission from the authors, we may be able to share our clues with you.
Drea and I spent a few hours one night plotting out the potential clues for our program. We wanted to make sure that while teens participated in this event, they were also secretly learning something about the library (and qr codes). So, we brainstormed what we had in our respective teen departments and what we could pull from. We ended up with about 20 clues that led teens through not only videos from authors, but to our respective online catalogs, book lists, and even to the posters and furniture. We also talked about which authors we might be able to have help us out, and we were blown away to get the help of Melissa Walker, Blythe Woolston, Kami Garcia and Margaret Stohl, Melinda Metz, and Loretta Ellsworth. Each made us a short video (under a 1:30) wherein they were able to pitch their books and then drop a clue for teens to move through the hunt.
To begin this program, I had to make one large purchase: an iPod touch. This cost roughly $200. I decided to purchase this because in my area, teens do not have much access to smart phones. It seemed unfair to me to expect anyone to participate in a program without the expensive equipment. Fortunately for me, I received a donation from a local organization, and the money went toward this purchase. Additionally -- and this was the plan from the start -- I decided that teens who completed the treasure hunt would have the opportunity to win big for participating. The iPod would be the prize (restored to factory settings, of course, before they could pick it up). So, while this was a pricey start up, this ensured fair access to the equipment AND served as a prize/incentive for participation.
When I got the iPod, I charged it, as well as loaded a free QR app onto it. I taught staff how to use the equipment by encouraging them to run through the hunt so they could answer questions that might arise. In addition, I made all of the books involved in the hunt non-circulating; this was done in the event one of our codes would check out. Fortunately, we're part of a big enough system that kids interested in checking out these books would be able to get them in a day or two from another library.
There were few instructions for my hunt. The teens were given a small handout with problem solving tips (answering things about what to do if they lost the qr app while going through the hunt or wanted to exit a video). They were allowed to borrow the iPod for the program with a library card or student id, and they were led to the first clue seen above. That qr code led them to a video produced by one of Drea's teens that explained how the program worked. She also dropped them to their first clue -- a book about a Violet who walks a runway by an author with the last name Walker. Easy enough!
On the back of the book was the qr code. After snapping that clue, they were led to their first author video:
Cool, right?
I won't show off the entire hunt, but Melissa's clue took them to one of our reference desks (I made sure to put the same qr code on both desks to cover my bases).
And from there, they were led to a few other places, including:
A poster in the teen area. This qr code actually linked up to the catalog record for
Beautiful Creatures
, wherein Kami and Margaret talked about libraries and led them to the final clue.
Besides just static things, I also made the kids work for their clues with puzzles:
And then there was the book list clue. At my library, we don't have a reader's advisory program set up yet in the teen area (something I am working on), but this was a great opportunity to get one book list out on tech books. I noticed later that some of those lists were actually being used and left in places that weren't the holder -- a sign that the kids were using them!
One of my favorite clues was the QR code that led from the reference desk to a post on my library's blog. I talked about award winning books -- the Morris, the Printz, and the Cybils -- and then asked the teens to find the Morris winner. And how cool they got to hear from Blythe herself about what an honor it was to win the award!
Another clue led kids to crawl on the floor and look beneath the big chair in the teen department.
Our final clue was to the book
Little Brother
by Cory Doctorow (yes, this was purposeful). When kids snapped that code, they were led to a Google form to fill out and be entered for the grand prize.
The form asked them for the basics -- name, phone, grade -- as well as asked them to name three books or authors they heard from. I did this in the event one of the kids got lost in the hunt and skipped clues. The last question was whether they'd do something like that again. Every entry said yes (woo hoo!).
This program, while it took a bit of set up, was easy to run. It required staff involvement only in the iPod loaning process, and we're extremely fortunate that our teen area was close enough to the reference desk that we didn't have to worry about the iPod walking away. We also had identification for the user and informed them that the iPod had a tracking device on it (which it did). We had no problems at all.
The biggest issues we had coming out of the program was some confusion on the part of the teens in figuring out how to use the device. It's a time-consuming program, as a program with such a huge prize should be. One of my regular teens said it took him over an hour to do, but he enjoyed it a lot. I think the fact the teens got frustrated at times is important, as it's a lesson for them that not everything
will
come easy to them. But this was a safe environment to try things out and learn, and they got to try something with equipment that they didn't have to worry about breaking.
I would do this program again in a heartbeat and I recommend something similar to other libraries looking for a way to incorporate technology and reading. As someone who'd never used a qr code myself, I thought this was such a cool introduction to the power they have, and it really encouraged me to think about how I could incorporate these things into my work. I even wrote a grant application in hopes of a little funding to try using them as part of our teen summer reading program.
One big frustration I had with the program -- and one you should be wary of -- is that our wireless network did not play nicely with the iPod. The pop-up we have that requires guest wireless users to agree to behave on the network would not come up on the iPod, and we were unable to access the wireless. To resolve this problem, we chose to allow the iPod onto the staff wireless network, and staff members who lent out the iPod logged the teens onto the network. We had no problems doing it this way. I also locked down the iPod to ensure no additional apps could be installed, since those purchases would come on my credit card. Again, we had no problems. Teens are good people -- and they were way more interested in doing the program than trying to cause problems with the iPod.
Ever tried something similar or heard of something similar? Tell me about it.